The Oregon Trail: River's Edge Chevre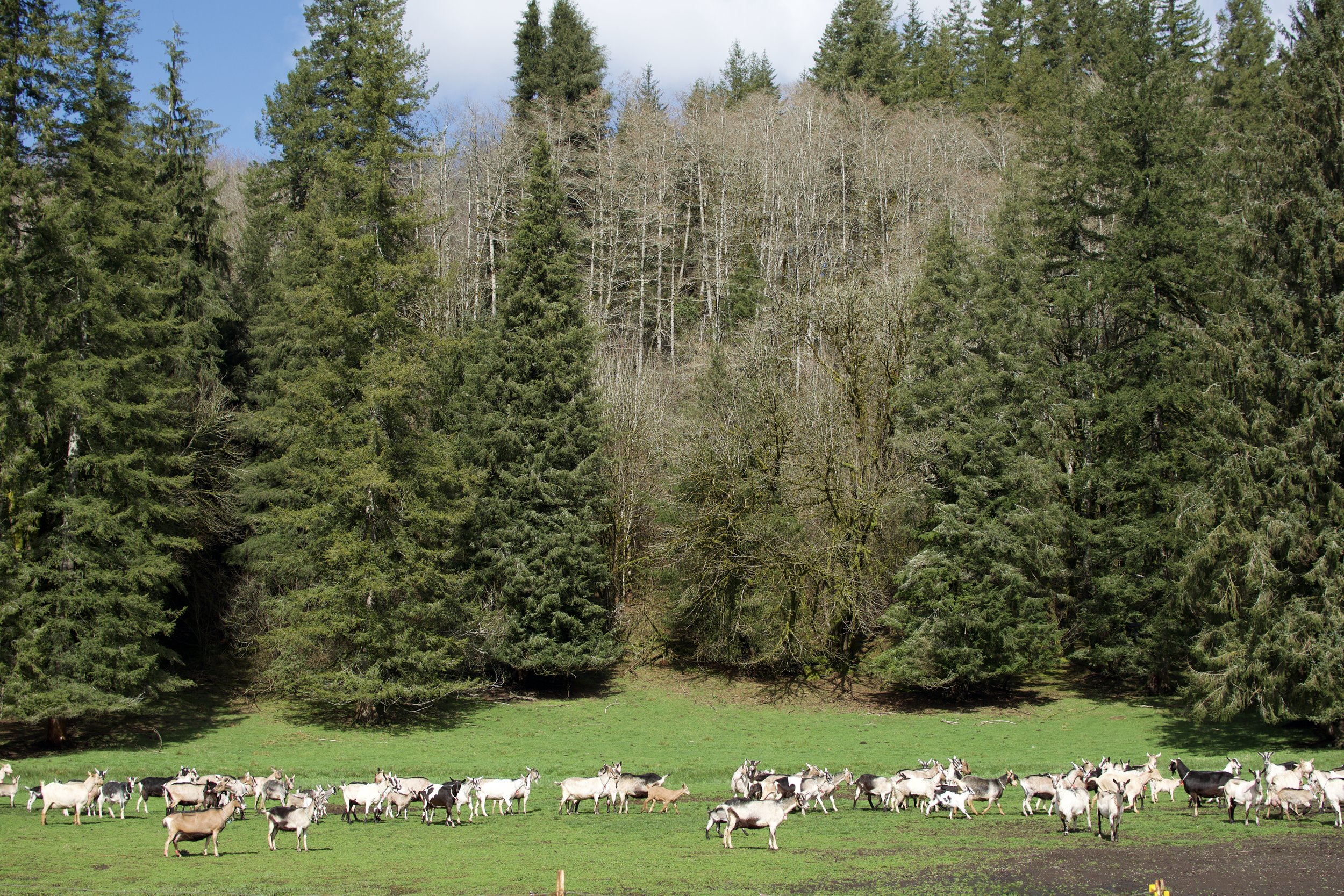 I've had the pleasure of selling Pat Morford's delicious cheese for about a decade. There was once a time when Pat hand delivered her tasty cheeses from a cooler after a long day at one of the many farmer's markets she used to attend in Portland. Receiving practices were MUCH more relaxed then and while I don't suggest this as a way to do business now, it did give us mongers a way to connect one on one with the makers. Few things were as exciting as receiving a cooler full of goodies at 9 pm!
Pat had grown up with goats and used them for a personal milk source but decided to build a career of making cheese. She spent several years working hard to create the space where she makes cheese now. From collecting all the cheese making equipment, to designing and building their living space directly above the creamery, Pat made her 12 acre farm distinctly hers. As she grew and started adding more goats to her herd, even acquiring goats from Cypress Grove, she started winning awards for her dairy goats and knew she was on the right path. The dairy was licensed to make cheese in 2005, the same year her daughter Astraea graduated college for horticulture. This brought Astraea back home to help her mother get everything set up and she now works side by side with Pat.
The coastal air and surrounding woods provide a perfect culmination for a picture perfect farm and outstanding cheese. Pat uses her surroundings in her cheese, from the fronds of ferns to large maple leaves, her cheeses are a true representation of the Oregon Coast.
My visit was the first day in many that the goats were truly able to get out of the barn. The rainy winter kept them indoors and happy but they BOLTED out the barn doors when given a chance to soak up some sun! 
For all the idyllic surroundings, it was clear to me that this has been a hard year on the River's Edge team. They lost their main milker as he moved away to start a new life and even when you are happy for someone, that is a major blow when you've had someone to count on to milk every day, twice a day, for the last eight years. They have some part time workers in the cheese room but to find people that are reliable in the milk parlor is an entirely different beast. Cheese production halted through kidding season for the first time because there was just no way they could handle babies, milking, and making cheese all at once. Like many small towns and rural areas across the country, changes in industry have heavily factored in to the hardships of the area.
It would seem though that things are back up and running full force because of the amount of River's Edge I've been seeing on Instagram as of late. There was plenty of training going on while I was there and I hope that things have evened out a bit for the Morfords. So often, we hear the romance behind cheese making and while yes, it can be romantic to live on a 12 acre farm with adorable animals, it also comes with LOTS of hard work. This is why I continue to be adamant about supporting small farms. Being a farmstead cheese means that the animals need to be dealt with and it comes with heaps more work and poop. Pat and Astraea love what they do immensely but that doesn't mean that they don't have daydreams of visiting the places that their cheeses travel to.